Deluxe Extra Deep Wooden Raised Vegetable Bed 1.8x.0.9mtr
Exclusively designed for Webbs by Worcestershire company M&M Timber, this Deluxe Extra Deep Wooden Raised Vegetable Bed offers a substantial, strong veggie bed without heavy investment
Read more
Details
Why we love it:
This is our extra deep version of the traditional wooden raised vegetable bed which has been exclusively designed for us by M&M timber of Clows Top, Worcestershire
This is a superior product to the economy models you may find elsewhere. It has an extra deep 8" gravel board with a thickness of 22mm, compared with the standard 6" gravel board.
This extra depth and thickness means that the bed is stronger and more substantial for increased longevity. It also allows you to grow a wider range of vegetables, including root crops such as carrots
As well as the extra deep gravel boards, it also comes with 6 robust 50mm square reinforcing pegs for extra support.
So if you want to get started growing your own veg, you really shouldn't be looking any further than this raised border which gives you a substantial product but without heavy investment
Why not add it to your normal flowering borders and use ornamental vegetables such as Lettuce Lollo Rosso or Nasturtiums for a really great show that you can eat too!
There are so many good reasons for using a raised border. Firstly the added depth allows roots to get away quicker and for moisture to be retained better. Secondly you'll find it easy to water and weed. The soil won't get compacted as there's no need to walk over it. Thirdly it's really easy to apply protective measures such as copper slug bands around the side or fleece or mesh tunnels.

What you need to know:
1 x Deluxe Extra Deep Wooden Raised Vegetable Bed 1.8x.0.9mtr
Dimensions: Length 1.8mtr x Width 0.9mtr x Height 20cm.
Made from high quality pressure treated wood. As with any preservative treated wood, it is good practice, but not essential, to line the bed with a perforated membrane before adding soil to minimise weed infiltration and enhance timber service life.
Comes flat packed as 4 sides. Very easy to put together in a few minutes. Prepare the underlying soil. Line up the 4 sides and use the screws enclosed to attach. Then fill with high quality top soil mixed with multi-purpose compost.
Specification
Delivery & Returns
You May Also Be Interested in....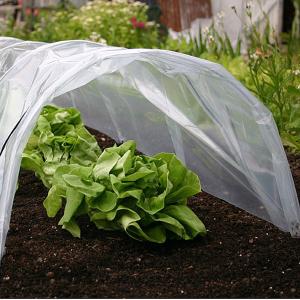 Haxnicks Easy Poly Tunnel
£16.99
Quick View >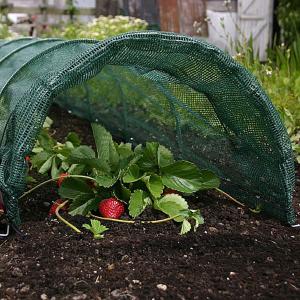 Haxnicks Easy Net Tunnel
£16.99
Quick View >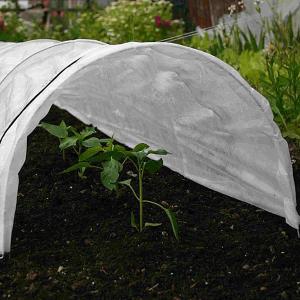 Haxnicks Easy Fleece Tunnel
£16.99
Quick View >
Other Products In This Category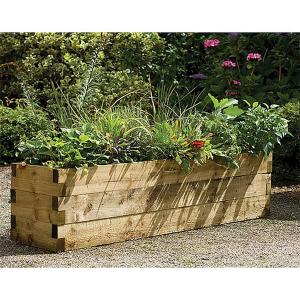 Treated Caledonian Wooden Raised Bed - 180cm x 45cm x 45cm
£89.99

was £109.99
Quick View >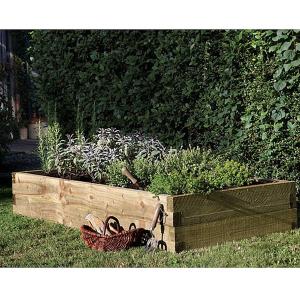 Caledonian Raised Bed 180 x 90 x 30cm
£84.99

was £109.99
Quick View >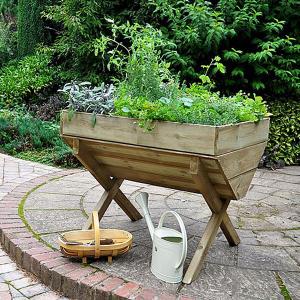 Forest Kitchen Garden Trough
£94.99
Quick View >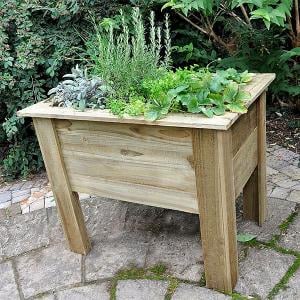 Forest Deep Root Planter 1m
£64.99

was £74.99
Quick View >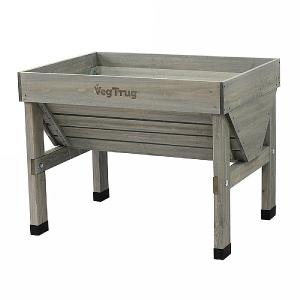 VegTrug Small 1m Classic Raised Planter
£129.99
Quick View >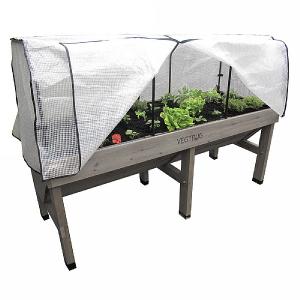 Free Frame & PE Cover
VegTrug Medium 1.8m with FREE Frame & Cover worth £44.99 (Grey Wash)
£179.99
Quick View >
Product Reviews (1)
Overall Product Rating 5 / 5
Deluxe Extra Deep Wooden Raised Vegetable Bed
27 Feb 2019
Deluxe Extra Deep Wooden Raised Vegetable Bed 1.8x.0.9mtr
I recommend this product
Bought 2 of these vegetable beds two years ago and 2 more this year for my allotment. Very pleased with my purchases. Easy to assemble and good quality. For the past 2 years I have achieved lovely straight carrot by growing in these extra deep raised beds. It is a shame they are not available in 2.4 m length since I plan to use more in the allotment.