Grow Delicious Potatoes
Use seed potatoes to grow your very own tasty crop. Fun, simple and easy with our guide...



GROW YOUR VERY OWN POTATOES
There is nothing to rival the taste of freshly harvested home-grown potatoes and growing them for yourself is easier than you might think. Follow our simple guide on how to grow your very own potatoes, whatever size your garden.
Everything you need to grow your own potatoes is available in-store at

Webbs, Wychbold

and

Webbs, West Hagley

.



1. Pick your potatoes.


Whether it's round or oval, blue or yellow, at Webbs we have a wide range of seed potatoes. These are the potato from which your crop will grow. There are different types of potato varieties available; when you plant; harvest and how many you will produce (yield) depends on the type of variety of potato (yield).

Your choice is between the earlies, second earlies and the maincrops. These categories are the time that the potatoes will be ready for harvest and are also loosely a guide to what to use them for. Early potatoes tend to have a waxier texture, hold their shape when boiled and are really great for salads. Maincrop potatoes tend to be better for roasting due to their larger size and more floury texture.

First earlies are planted in March (usually when the danger of frost is over) and are normally ready to dig up from June to July. Second earlies ready from July - August. Maincrops from August and late maincrops from September onwards. If space in the garden is an issue then we recommend that you choose an early variety as they take up less space for less time. We also have Potato growing bags which means you save space and ideal for balconies, patios and small compact gardens.

Browse seed potatos

Let your Seed Potato Sprout (Chitting)

To get the best out of your seed potatoes we suggest chitting your potatoes before planting. This process encourages strong shoots to sprout over several weeks to encourage faster growth and more generous crops once they in the ground.

From late January to February, 'chit' your seed potatoes by setting them out in seed trays in a cool, bright, frost free position (10C/ 50F) to allow them to sprout for example a window sill. You will notice that the immature shoots (chits) are all at one end called the rose end. Place the rose end upwards. Sturdy 'chits' will form and should gain up to 25mm (1") in length.

Make your seed potatoes super seeds add vermiculite for faster sprouting.
Growing Potatoes in a bag
Short on space? Growing seed potatoes in a bag is a simple way to get delicious potatoes.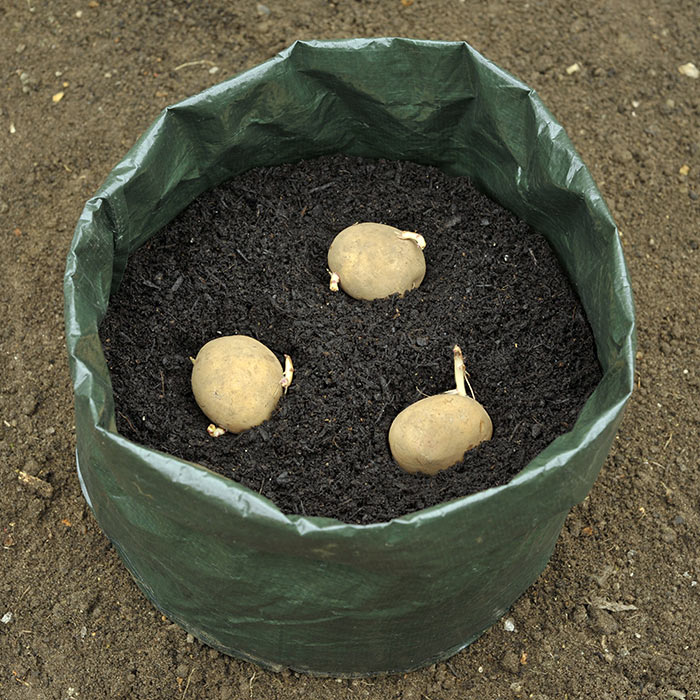 Simply fill your potatoes grow bag with around 12 inches of fresh, good quality, multi- purpose compost

Place 3 or 4 of the seed potatoes into the compost evenly spaced apart

Cover the potatoes with around 2 inches of compost and give them a good water to settle the seed potatoes in

As the shoots grow from the potatoes keep adding a couple of inches of compost so the shoots just poke through the top. Keep topping up as they grow.

Once the leaves (foliage) begins to grow over its time to harvest your potatoes

To harvest, cut leaves down and tip the contents out to find your beautiful yummy potatoes
Growing Potatoes in the ground
Make your garden a haven of fresh produce.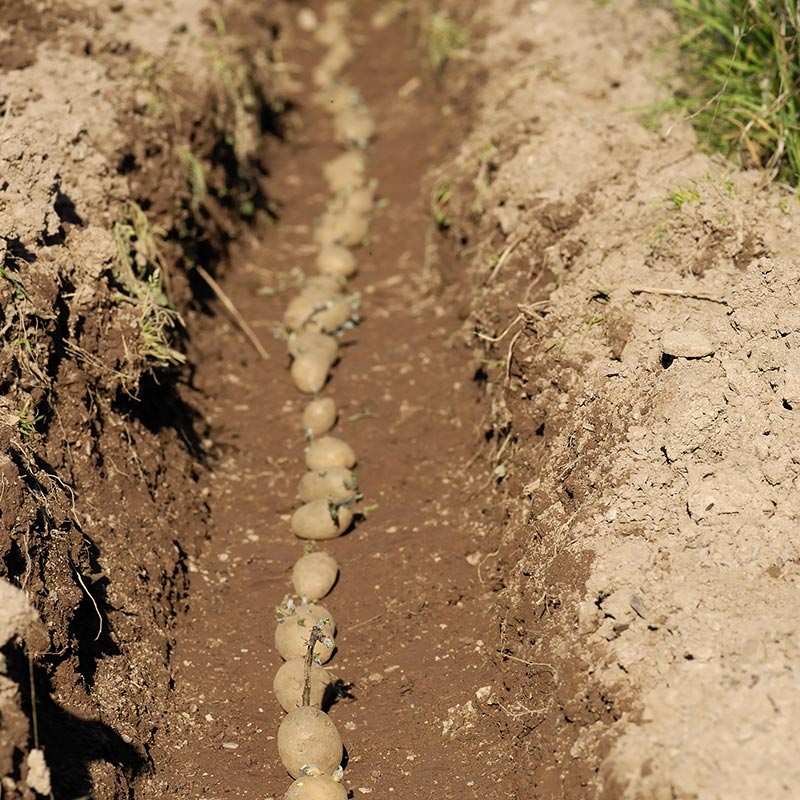 Dig a trench to a depth of about 10cm (4")

Place the seed potatoes into the trench with the rose end facing upwards

Fill the trench with soil to cover the potatoes

Scatter along side some potato fertiliser to get maximum growth

Expecting frosty weather?

It is important to 'earth up' potato crops as the shoots emerge above ground, to protect them from frosts which blacken the shoots and delay production. Simply draw some soil over the top of the shoots to cover them again. Make sure to water your potatoes as they require plenty of water during dry weather, especially when the potatoes are starting to form.

All done!

We hope you and your family have fun planting and growing them and hope even more you enjoy your yummy potatoes, however you like to cook them!

Share your photo's of seed potatoes with us, Facebook twitter.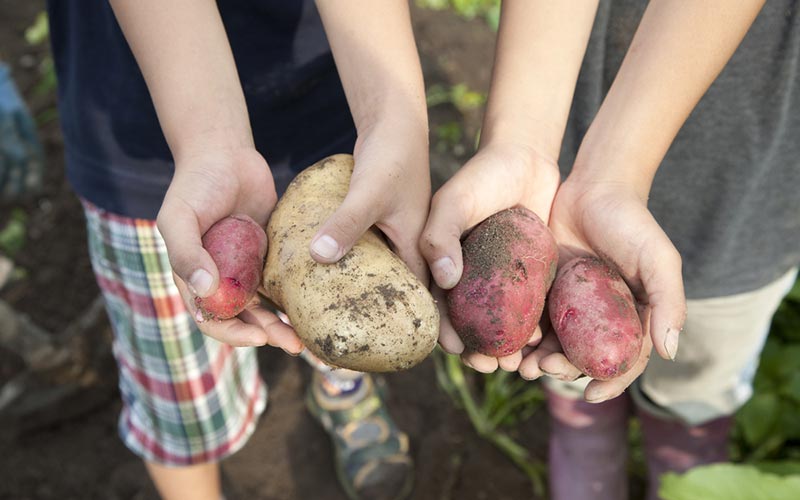 Everything you need to grow your own potatoes is available in store at Webbs, Wychbold and Webbs, West Hagley.

Shop Seed Potatoes