Roundup Fast Action RTU Pump N Go 5L
Roundup Fast Action RTU Pump N Go 5L is a fast acting systemic weedkiller in an easy to use spray pack for effective weed control. Degraded in the soil by microorganisms
Read more
Details
Why we love it:
Roundup Fast Action RTU Pump N Go 5L is a fantastic new weedkiller product from the makers of Roundup which provides you with 10 minutes of continuous zapping and great results every time
It's seriously easy to use as there's no need for mixing, and comes with a pressurised pump sprayer to help you tackle large areas
Simply pump and spray in the affected areas and the weedkiller will go in through the foliage and move right down to the root tips to kill off the whole plant
It's extremely fast working and very effective, and it also leaves no harmful residues so you're okay to replant and to allow children and pets into the treated area
This total weedkiller is degraded in the soil by microorganisms and can be used to destroy annual and deep rooted perennial weeds, including grasses, dandelions, docks, bindweed and thistles
What you need to know:
1 x Roundup Fast Action RTU Pump 'n' Go 5 litres
Fast action ready to use weed killer that kills the weeds and roots
Visible results in 1-2 days
Kills most garden weeds with a single application
Up to 10 minutes of continuous spray
Children and pets need not be excluded from treated areas (once dry)
Degraded in the soil by micro organisms
Leaves no harmful residues to allow replanting
Warning: For use only as a home garden weedkiller. Toxic to aquatic life with long lasting effects. Contains 7.2g/l glyphosate acid IPA salt of glyphosate in a ready to use solution. Always read the label. Keep out of reach of children
Specification
Delivery & Returns
You May Also Be Interested in....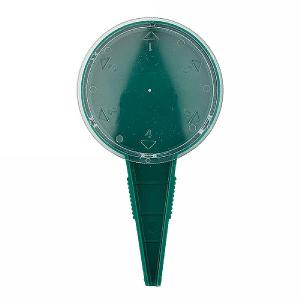 Gardman Seed Sower
£2.49
Quick View >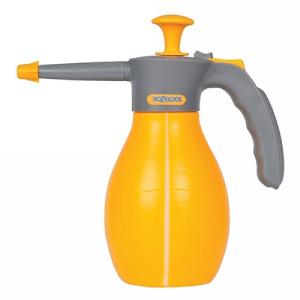 Hozelock T1 Pressure Sprayer 1 Litre
£9.99
Quick View >
Other Products In This Category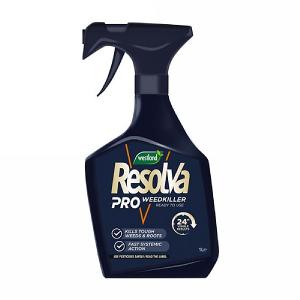 Westland Resolva Pro Weedkiller Ready to Use 1L
£5.49

was £6.99
Quick View >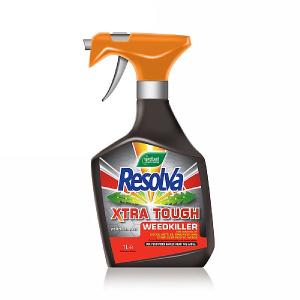 Resolva Xtra Tough Weedkiller Spray 1L
£5.99
Quick View >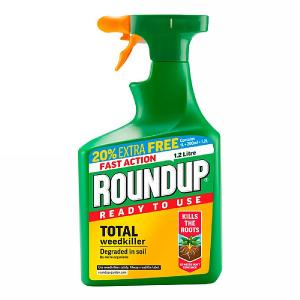 Roundup Fast Action RTU Weedkiller 1.2L
£5.99
Quick View >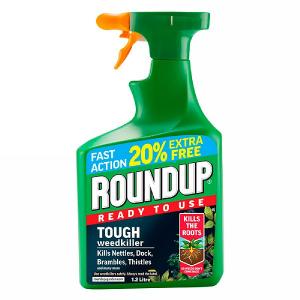 Roundup Tough RTU Weedkiller 1.2L
£6.99
Quick View >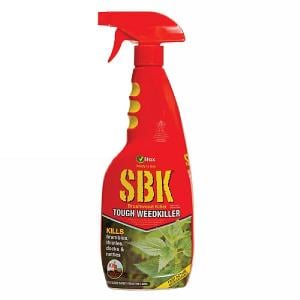 SBK Brushwood Killer - 1 Litre Ready to Use
£6.99
Quick View >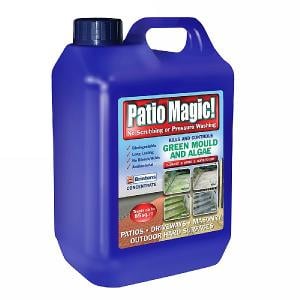 Patio Magic! Patio Cleaner 2.5L
£11.99
Quick View >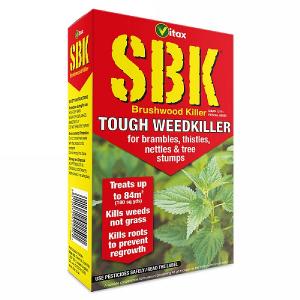 Vitax SBK Brushwood Killer 250ml
£8.99
Quick View >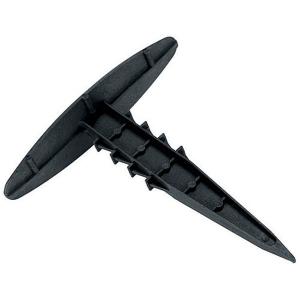 Black Garden Fabric T Pegs
£3.99
Quick View >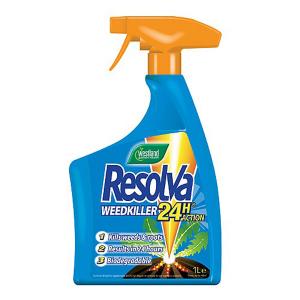 Resolva 24H Ready To Use Weedkiller 1 Litre
£5.99
Quick View >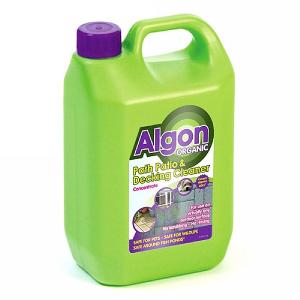 Algon Organic Path and Patio Cleaner 2.5 Litre
£7.99
Quick View >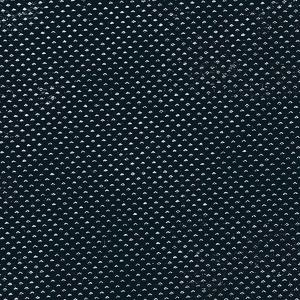 Classic Weedstop 12m x 1m
£8.99
Quick View >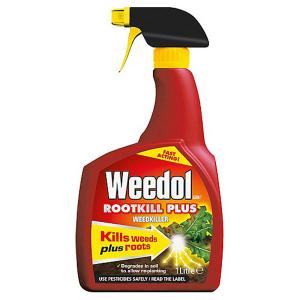 Weedol Rootkill Plus Weedkiller Ready To Use 1L
£4.49
Quick View >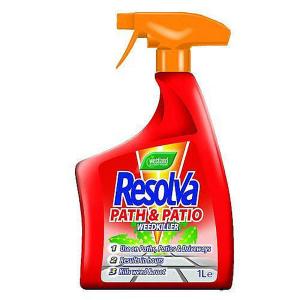 Resolva Path & Patio Ready To Use Weedkiller 1 Litre
£5.99
Quick View >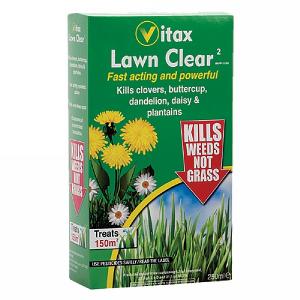 Vitax Lawn Clear Concentrate 250ml
£8.99
Quick View >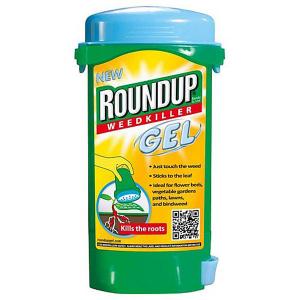 Roundup Weedkiller Gel 150ml
£9.99
Quick View >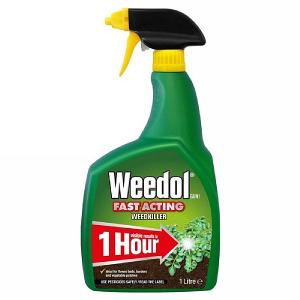 Weedol Fast Acting Weedkiller Ready To Use 1L
£5.99
Quick View >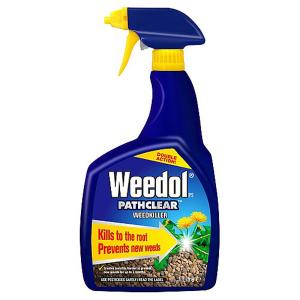 Weedol Pathclear Gun 1L (RTU)
£5.99
Quick View >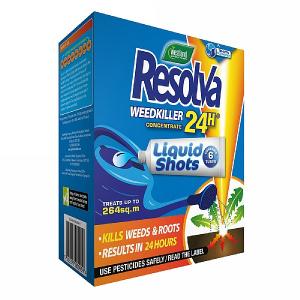 Resolva 24H Concentrated Weedkiller Liquid Shots 6 Tubes 264m2
£9.99
Quick View >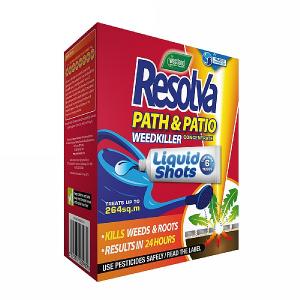 Resolva Path & Patio Concentrate Weed Killer Liquid Shots 6 Tubes
£9.99
Quick View >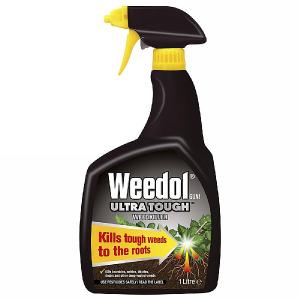 Weedol Ultra Tough Gun 1L (RTU)
£5.99
Quick View >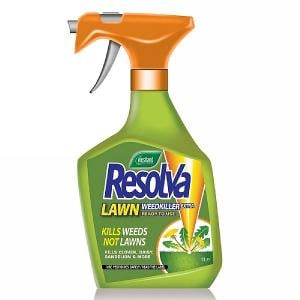 Resolva Lawn Weedkiller Extra Ready To Use 1L
£5.99
Quick View >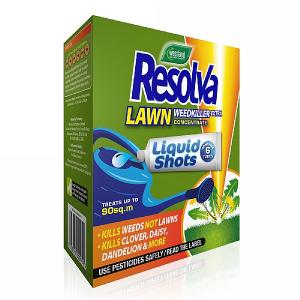 Resolva Lawn Weedkiller Extra Liquid Shots 6 Pack
£9.99
Quick View >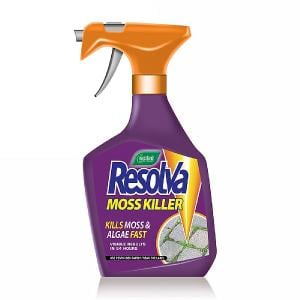 Resolva Moss Killer Spray 1L
£5.99
Quick View >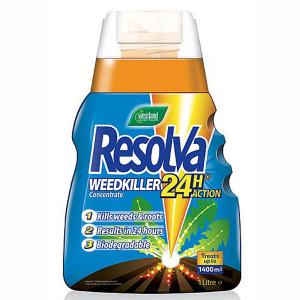 Resolva 24H Concentrate - 2 Sizes
£9.99
Quick View >
Be the first to write a review
Feel free to leave a review of this product, good or bad it helps other customers with their buying decision