Webbs wins UK Best Workplace™ 2021 award
Webbs has been recognised as one of the Top 25 Best Workplaces™ in the UK for 2021 as part of the Great Place To Work™ programme...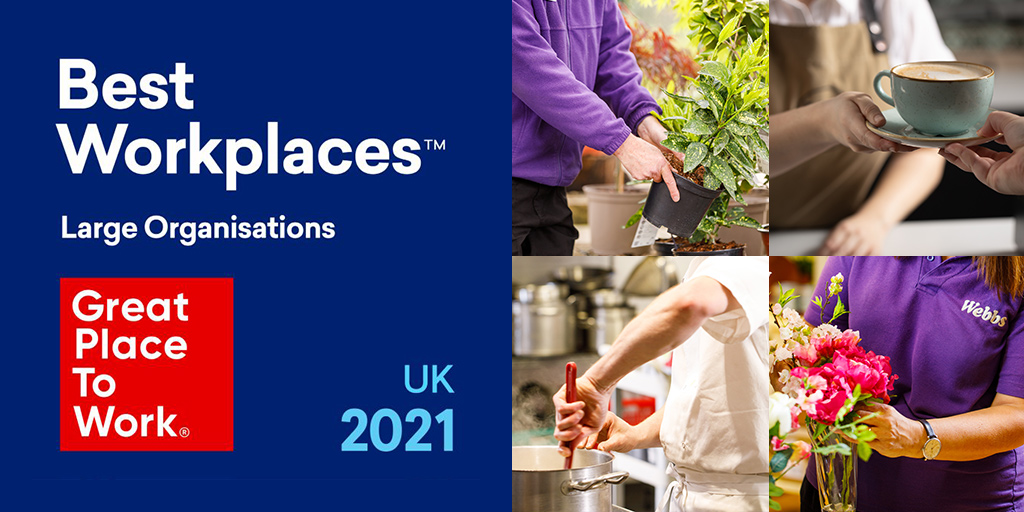 Webbs Garden Centres, with over 350 employees, has been recognised as one of the Top 25 Best Workplaces in the UK for 2021. This award is part of the Great Places To Work programme. This is a fantastic achievement for every individual who works at Webbs and testament to how well the team have pulled together and supported each other particularly through the recent challenging period.

To achieve recognition for this award, Webbs took part in a detailed and anonymous survey administered by Great Place® to Work in September 2020. A Trust Index survey® was given to Webbs colleagues and the results represent 3/4 of the final score. The remaining quarter of the score comes from the Culture Audit®, a business-driven questionnaire which uncovers and evaluates the organisation's HR and leadership practices, policies and culture.

The programme recognises those organisations with a high-trust and highly engaged workforce. Evidence shows that engaged team members 'go the extra mile' and go 'above and beyond' for customers as well as colleagues. Teams at Webbs feel supported by management and peers and have confidence in the leadership and direction of the senior team. As one Webbs colleague said "Webbs is a great place to work with a unique family feel. There is a focus on wellbeing and fun as well as getting the job done."

Only 51 large organisations achieved the benchmark to be recognised as a Best UK Workplace 2021 with Webbs achieving the number 25 spot in the rankings.

"We are delighted to win this award for the second year running , moving into the large category and progressing up the ranks to number 25. Not only does it recognise all the hard work and dedication from everyone at Webbs, but we are also the only garden centre to be recognised as one of the UK's Best Workplaces. This is a fantastic achievement for us and our sector. Promoting a healthy workplace culture through trust, pride and camaraderie is at the heart of how we work" said Edward Webb, Chairman and owner of Webbs Garden Centres.

Thank you for reading. To see our careers page and to find out more about Webbs Garden Centres, please click here.