The Enchanted Gardens Neverland
The magical light trail is back at Webbs, Wychbold in Worcestershire for Christmas 2023...


In The Riverside Gardens at Webbs, Wychbold
By Special Arrangement with Great Ormond Street Hospital Children's Charity
Book tickets

"Second to the right and straight on 'til morning" - J.M. Barrie

Fly with Peter Pan and Tinkerbell to Neverland - a magical island where children never grow up! Our popular light trail will take you on an unforgettable adventure to a land of mermaids, fairies and pirates including the evil Captain Hook!

Event dates: Friday 17th November 2023 - Wednesday 3rd January 2024
Time slots run every 10 mins. Santa will be at The Enchanted Gardens from November 17th until December 28th inclusive.

Off-peak prices: November weekdays - £16 adult, £10 child (3-16) 0-2 years free. £50 family ticket (two adults, two children)
Standard prices: November weekends, December weekdays up to 14th Decemeber - £18 adult, £12 child (3-16) 0-2 years free. £55 family ticket (two adults, two children)
Peak prices: December weekends and 15th - 23rd December - £19.50 adult, £13.50 child (3-16) 0-2 years free. £60 family ticket (two adults, two children)

Carer tickets: One free carer ticket can be provided for each paying disabled visitor. To avoid disappointment, we ask that everyone intending to visit, book their tickets online in advance.

Children with additional needs: The trail opens exclusively to children with additional needs on Friday 17th November. There are slots at half capacity between 5pm and 5:30pm. Further half-capacity sessions are on Thursday 14th December 4pm - 4:30pm. Please call 01527 860000 to book. Our Community Heroes night is on Friday 17th November - keep an eye on our social channels for more info on how to nominate your here.
Book tickets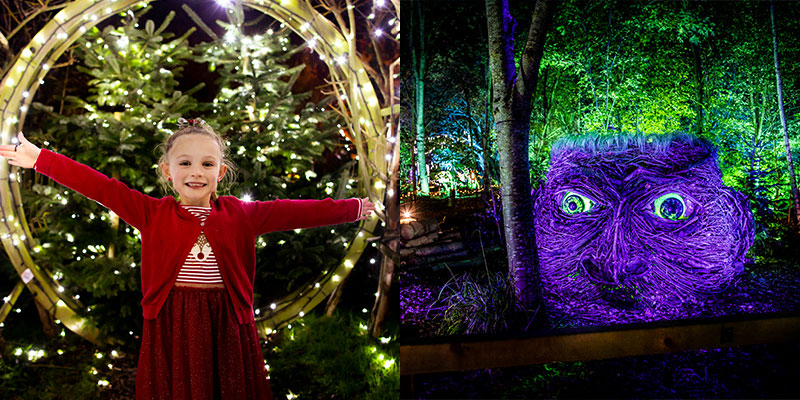 Our most ambitious trail yet, the story is brought to life through a mixture of stunning lighting, lanterns, projections, and enchanting sounds.

'Fly' out of the nursery window with Wendy, John, and Michael, across the London skyline to Neverland!

Dive into a watery world at Mermaid's Lagoon as you 'swim' alongside the mermaids.

Tread lightly at Pirate's Creek or expect to be made to walk the plank!

Venture deep into the woods, stopping off at the fearless Tiger Lily's camp before enjoying a delicious, imaginary meal at Wendy's House.

Join the Lost Children around the fire and peek into Tinkerbell's tiny house but be on your guard for Captain Hook may be lurking nearby!

Witness the ultimate clash between Peter Pan and Captain Hook on the infamous Jolly Roger. As the Lost Children bravely battle against the pirates – the fate of Neverland hangs in the balance. Will Peter Pan and the children emerge victorious?

Finally, (because this is Neverland where anything is possible) there is also the option to stop by Santa's snow-covered workshop and house and take some festive photographs to remember the occasion.

The Enchanted Gardens Christmas light trail in Wychbold, Worcestershire is a must-do magical event!

Book tickets

Webbs Garden Centres has made a donation to Great Ormond Street Hospital Children's Charity for the rights to use Neverland and J.M Barrie's Peter Pan as the inspiration for this year's light trail and is encouraging visitors to donate to this amazing children's hospital when buying tickets.

Environmental Impact
Our new solar field provides some of our power. Many of our structures are made by immensely talented artists and sculptors on site or nearby, often with fallen branches or materials that we have salvaged from elsewhere on site. We reuse lights from year to year, weaving them into new narratives and new stories, to keep the experience fresh for our audience. Our jellyfish lanterns this year are from down the road in Bristol. Enjoy!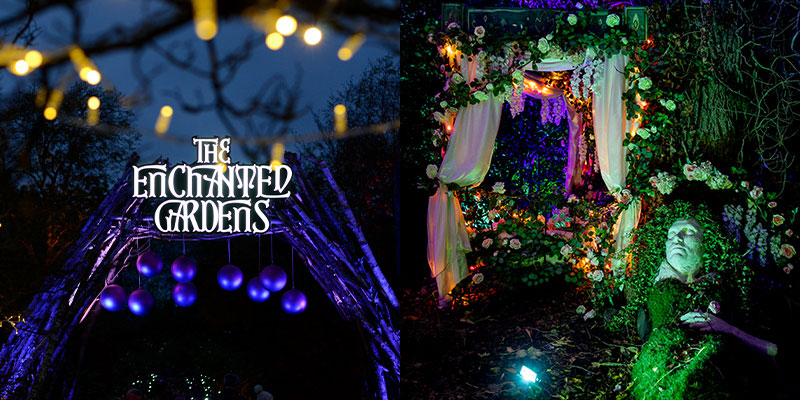 What can I expect from The Enchanted Gardens 2023?

The gardens will be lit beautifully in jewel-like colours, festoon, and fairy lights. You will wander through zoned areas, inspired by the tale of Peter Pan by J.M. Barrie. Wendy, John and Michael's nursery in London at Christmas, Mermaid's Lagoon, Pirate's Cove, Tiger Lily's Camp, Wendy's House, Peter Pan's Camp and The Jolly Roger. There is also an optional extra stop via Santa - where the elves will be busy in the elf workshop and Santa will be snug in his house. Please note that there are no individual family slots for Santa, rather he will be talking to children as they walk past his house and he's happy to pose for selfies!

The route is designed with families in mind and should be equally mesmerising to adults and children alike. The route should take around 45 minutes to an hour to complete.
A selection of food and drink will be available on the day in our heated tipis. Alternatively, our heated hygge igloos can be pre-booked for VIP dining (coming soon)

Please note that dogs are not allowed on the trail unless they are guide dogs.

The river Salwarpe runs through the gardens. Families must stick to the path throughout and small children must be watched by an adult at all times.

There are no toilets within the trail itself (please use the toilets by the ticket office prior to entering).

The pathways are gravel and follow the natural undulation of the ground. Not all wheelchairs will be suitable for the terrain. We have all-terrain wheelchairs for free hire. Please get in touch at ench[email protected] if you require the use of one of these.

FREE parking on-site