The Enchanted Gardens at Webbs
Immerse yourself in a fairy tale world, as you make your way through twinkling lights and lanterns to the snowy north pole…



THE ENCHANTED GARDENS AT WEBBS
In the Riverside Gardens at Webbs, Wychbold

Event dates: Saturday 5th November 2022 - Monday 2nd January 2023*
Event times: Time slots run every 10 mins. If you wish to see Santa on the trail, the last time slot you can book is 8pm as he is off to bed at 9pm. He will be at The Enchanted Gardens from November 5th until December 23rd inclusive.

*Prices held from last year*
Off-peak prices: November/January 2022 - £16 Adult, £10 Child (3-16) 0-2 years free. £50 family ticket (two adults, two children)
Peak prices: December 2022 - £18 Adult, £12 Child (3-16) 0-2 years free. £55 family ticket (two adults, two children)

Book tickets

Free carer tickets can be provided for each paying disabled visitor. See our FAQ page for more information. In order to avoid disappointment, we ask that everyone intending to visit, book their tickets online in advance.

Please note that this is predominately a light trail experience. Santa is not part of the trail post-Christmas day. There are no individual family slots for Santa, rather he will be talking to children as they walk past his house and he's happy to pose for selfies!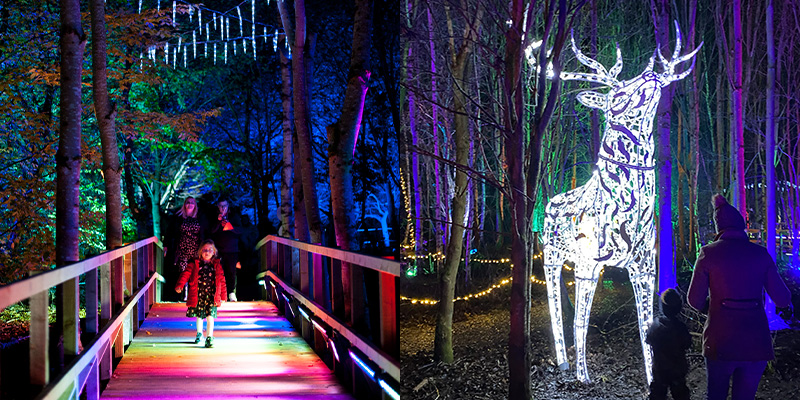 Reimagined for 2022! Immerse yourself in a fairy tale world, as you make your way through twinkling lights and lanterns to the snowy north pole…

This magical experience covers six different stories. Brought to life through a mixture of stunning lighting, giant lanterns, projections, and enchanting sounds.

Discover a one-legged tin soldier, desperate to win the heart of a dancing ballerina.

Fight your way through the brambles to find a palace, undisturbed for 100 years, where Sleeping Beauty lies on her mossy bed and brambles and wildflowers grow.

Stroll along the riverbank to the tall, crested, iron gates that lead to a beast's lair and wander through the rose garden with the dark-haired Beauty.

Watch as the fantastical forest animals come out at night in the jewel-lit woodland... Will the three little pigs escape the big bad wolf?

Beware of the troll as you cross the bridge over the bog to the other side!

Take a seat on the Snow Queen's sledge to the north pole where Gerda seeks to rescue her brother Kay from the ice thorn that has pierced his heart.

There is also the option to stop by Santa's snow-covered workshop and house at the north pole and take some festive photographs to remember the occasion.

The Enchanted Gardens is a must-do magical Christmas event!

What can I expect from The Enchanted Gardens 2022?
The gardens will be lit beautifully in jewel-like colours, festoon, and fairy lights. You will wander through zoned areas covering six classic fairy tales - The Steadfast Tin Soldier, Sleeping Beauty, Beauty and the Beast, Three little pigs, Three Billy Goats Gruff, before arriving at the snowy north pole for the finale of The Snow Queen. There is also an optional extra stop via Santa - where the elves will be busy in the elf workshop and Santa will be snug in his house. Please note that there are no individual family slots for Santa, rather he will be talking to children as they walk past his house and he's happy to pose for selfies!
The route is designed with families in mind and should be equally mesmerising to adults and children alike. The route should take around 45 minutes to an hour to complete.

A selection of food and drink will be available on the day in our heated tipis. Alternatively, our heated igloos can be pre-booked for VIP dining (coming soon).

Please note that dogs are not allowed on the trail unless they are guide dogs.

The river Salwarpe runs through the gardens. Families must stick to the path throughout and small children must be watched by an adult at all times.

There are no toilets within the trail itself (please use the toilets by the ticket office prior to entering).

The pathways are gravel and follow the natural undulation of the ground. Not all wheelchairs will be suitable for the terrain. We are in the process of confirming a number of all-terrain wheelchairs for free hire. Please get in touch at [email protected] if you require the use of one of these.

FREE parking on-site

For a full guide of FAQs and what you can expect from this event, please click here.